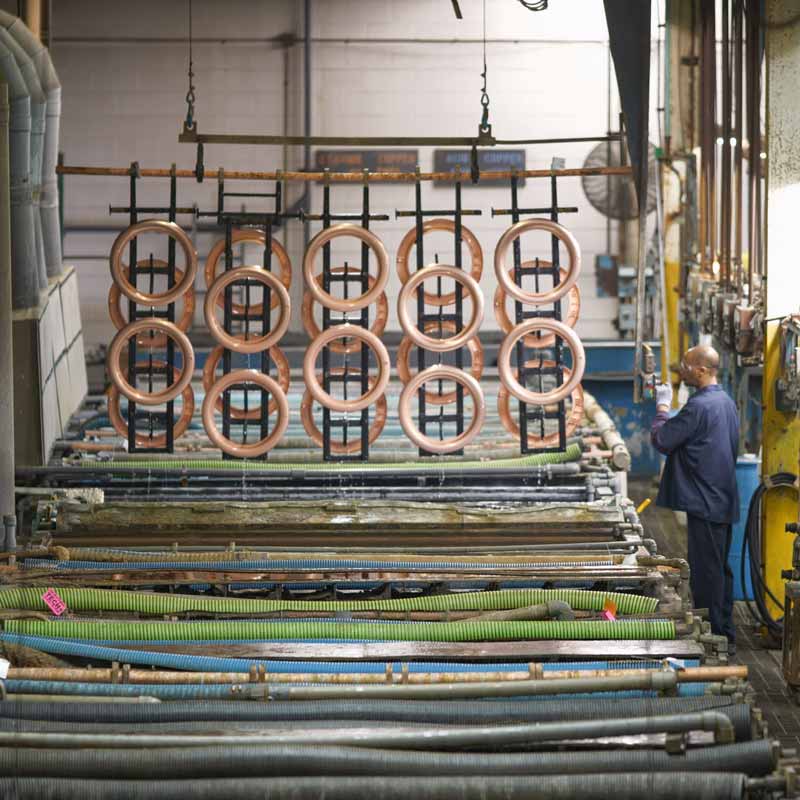 Rack Plating
Company
Allied Finishing, an ISO certified company, has over 40 years of experience in providing custom rack plating design and complete electroplating services. We deliver a commitment to high quality custom rack plating to original equipment manufacturers (OEM) in the automotive, appliance, gaming, heavy truck, motorcycle, and plumbing industry.
To ensure quality custom rack plating design, we work with our clients to create racks that offer full part exposure and maximum current flow throughout the electroplating process. Electroplating is often used to enhance the appearance of metal objects and protect them from wear and corrosion. Allied Finishing has developed an industrial electroplating process that uses various metals to achieve desired results for our customers.
Electroplating Services
Electroplating Provides Many Benefits:
Conducts Electricity
Creates a Protective Barrier
Enhances Appearance
Increases Surface Hardness
Provides a Uniform Surface Finish
Reduces Friction
Custom Rack Plating Design
At Allied Finishing, our quality decorative metal plating begins with custom designed electroplating racks that are state of the art. AFI's engineering expertise allows us to push the limits in electroplating rack design. This provides our customers the highest quality rack for optimal plating to their unique and sophisticated components.
At every step, Allied Finishing Inc is committed to providing quality rack plating services. We connect with our customer's goals, and strive to provide electroplating excellence through people, equipment and quality materials. Allied Finishing Inc assures ISO 9001:2008 compliance throughout our documented quality management process to ensure electroplating integrity now and for continual improvement.
INTERESTED IN WORKING WITH ALLIED FINISHING?
---
Send us a message or give us a call. We are here to help!